Danbee Investigations: World Class Investigative and Consulting Services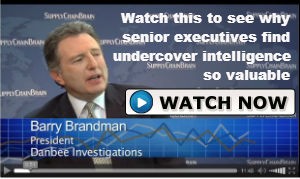 Danbee Investigations provides professional security consulting and investigative services for Fortune 100 companies, as well as privately held businesses and prominent law firms.
Danbee's security consulting and investigation services provide clients with the highest level of expertise. As a result of our investigation services, Danbee's clients have been able to eliminate theft related loss, reduce their exposure to risk, and operate their companies with increased control, efficiency and profitability.
The bottom line for any business is tangible results, and that is exactly what Danbee's consulting and investigative services have been delivering since 1966. Clients know that they can depend on highly skilled professionals, personalized attention and successful results.
Learn more about our specialized investigation services
Danbee's executives have appeared on network television and have been guest speakers on the subject of security and investigative services for prominent organizations such as the:
U.S. Department of Homeland Security
International Cargo Security Forum
National Retail Federation
Foreign Trade Association
International Security Conference
Council of Supply Chain Management Professionals
Institute for International Research
World Food Logistics Association
Pharmaceutical Security Conference
International Warehouse Logistics Association
National Association of Electrical Distributors
Warehousing Education & Research Council
International Foodservice Distributors Association
National Association of Chain Drug Stores
U.S. Maritime Security Conference
National Beer Wholesalers Association
American Association of Exporters and Importers
International Association of Refrigerated Warehouses
Transported Asset Protection Association
Supply Chain Integrity & Risk Forum
American Wholesale Marketers Association
Serving a clientele that reads like a Who's Who in Business and Industry, Danbee Investigations is regarded as the undisputed leader in the field of corporate investigative services and security consulting. If your organization is in need of investigation services, look no further than Danbee Investigations.
Contact Danbee Investigations for more information about our investigative services